On March 11, 2014, under the patronage of His Excellency the Ambassador of Sweden Björn Lyrvall and His Excellency the Ambassador of Afghanistan Eklil Hakimi and Mrs. Sultana Hakimi, the Aschiana Foundation held its Annual Fundraising Event at the House of Sweden.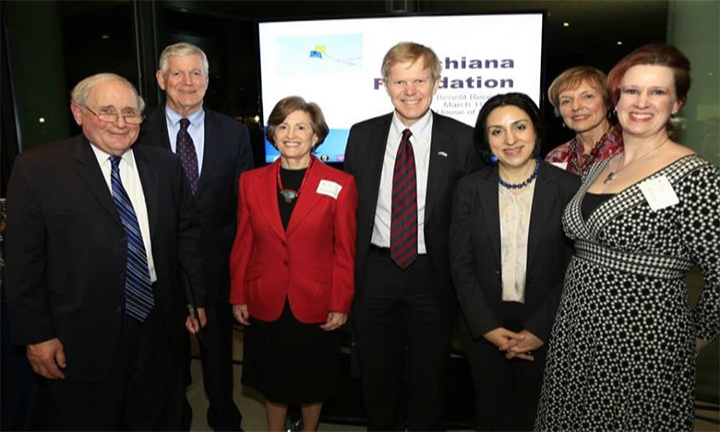 Aschiana's friends and long-time supporters such as the Honorable Carl Levin (Chairman, Senate Armed Services Committee), General Richard Myers (USAF Ret.), and many other prominent friends, all came to celebrate Aschiana's work and to show their support in helping Afghan children!
This success was, without a doubt, a reflection of the dedication of Aschiana's donors and the depth of caring for Afghanistan's youth. With the generous contribution of the Mina Group, this event allowed for the funds raised to go directly to Aschiana's programs in Afghanistan!
The Honorary Host Committee included: The Honorable Madeleine Albright, The Honorable P. Jackson Bell, Lieutenant General John Bradley, USAF (Ret.) and Mrs. Jan Bradley, The Honorable Russ Carnahan, General George W. Casey Jr., USA (Ret.) and Mrs. Sheila Casey, Ms. Pamela Constable, The Honorable Ryan Crocker, The Honorable Martin Hoffmann, Mr. Louis R. Hughes, The Honorable Karl F. Inderfurth, The Honorable Said Tayeb Jawad and Mrs. Shamim Jawad, The Honorable Zalmay Khalilzad, The Honorable Bobbie Kilberg, and The Honorable William Kilberg, Ms. Christina Lamb, Brigadier General T. Patterson Maney, USA (Ret.), The Honorable Anita McBride and, The Honorable Timothy J. McBride, General Stanley A. McChrystal, USA (Ret.), General Richard B. Myers, USAF (Ret.), The Honorable Ronald E. Neumann, The Honorable Theodore B. Olson and, Mrs. Lady Booth Olson, Congresswoman Cathy McMorris Rodgers, Congressman Mike Rogers, Congresswoman Niki Tsongas, Ms. Gayle Tzernach Lemmon, The Honorable Melanne Verveer, Mrs. Charlie Wilson.