Aschiana Foundation hosted a
Pop-Up Afghan Art Gallery and Sale
With Hashmat Hayat, former Aschiana student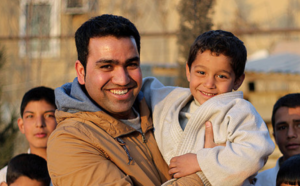 Sunday, March 26th
6:00 – 8:00 PM
Lapis Bistro, lower level
1847 Columbia Road, NW
Washington, D.C. 20009
Hashmat grew up attending Aschiana's main school in Kabul and took a special interest in painting classes. After receiving his bachelor's degree in India, he returned to Afghanistan to work for Aschiana. Hashmat is bringing a showcase of his artwork all the way from Kabul for this special event. This is an exclusive opportunity not only to view and purchase beautiful artwork, but to hear from one of Aschiana's brightest success stories.
Afghan appetizers were included in a $30 entrance fee, with a 50% student discount. Cocktails and other drinks were available for purchase. Hashmat's art, along with some art from current Aschiana students, were also be available for purchase.
100% of ticket sales and 40% of proceeds from the art sale benefit the Aschiana Foundation. The Aschiana Foundation is a D.C.-based not-for-profit dedicated to providing education and humanitarian programs to children working on the streets and living in IDP camps in Afghanistan.